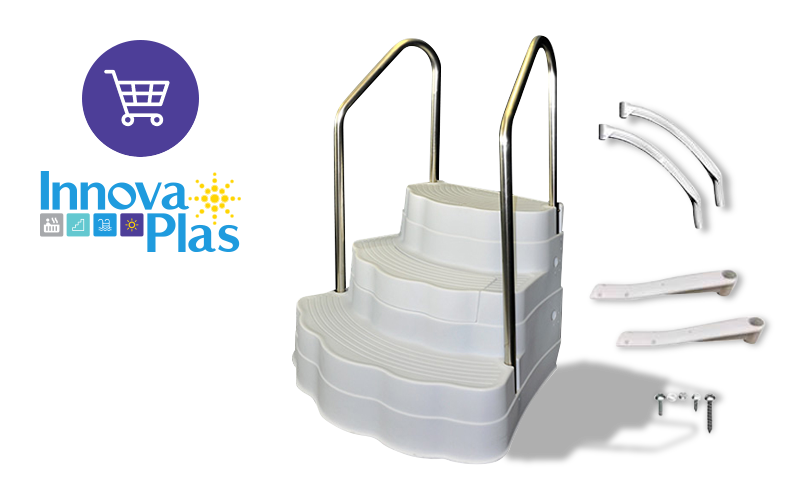 Do you want to order parts for steps or ladders? Check out the link below
Lumi-O | InnovaPlas is a manufacturer of pool steps, ladders, and lighting systems for both inground and above ground pools in Canada, the United States, and Europe.
With the acquisition of Lumi-O International in 2009 and Access Resin Products a few years prior, our line of products is not only one of the most complete on the market, but also makes InnovaPlas one of the key players in the industry.
Mike P

I've owned this light for (3) years now & It works as good as the day i bought it. no water intrusion. I tried several other products before finding the innovalite 9018. many didn't last a single season. this light installs easily, isn't location limited (needing a return port or electric outlet nearby), requires only approx ⅛" gap between the pool wall & top rail. THE MAGNET ON THE BACK HOLDS THE LAMP FIRMLY AGAINST THE POOL WALL. the cord between the lamp and the solar panel/power switch is long enough that i mounted the panel several feet away and above the pool (on my deck railing). I Can (and have) easily recommend this light. Hey Lumio... when will you introduce this in a multicolor model?? Plz !! take my money.

sharon mcavoy

I like this self latching pool ladder/steps but the platform and arms are not made that well and crack when taking in and out of the pool. I've replaced the arms on mine twice already!
Need Information?
[email protected]
Administrative Office
2257, route 139, Drummondville QC J2A 2G2
Service Office
850, de l'Industrie, suite 100, St-Jérôme QC J7Y 4B8